A Lunar New Year Celebration for the Generations
January 27, 2023
By Angela Bao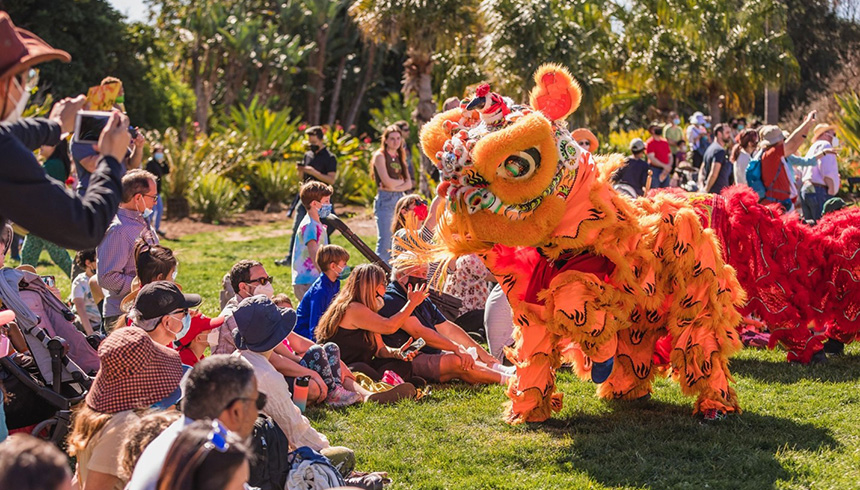 A lion dance performance at the Huntington's Chinese New Year festival. (Photo credit): The Huntington Library, Art Museum, and Botanical Gardens.
Bringing friends, families, and cultures together to celebrate the Year of the Rabbit.
Lunar New Year is one of the most widely celebrated holidays in the world. Observed by 1.5 billion people, Lunar New Year marks the beginning of spring in the lunisolar calendar and is one of the most important holidays in Asia. It's a time when families and friends reunite to usher in good health, fortune, and prosperity for the new year.
Among Asian Americans, Lunar New Year has taken on even more significance. For some, it's a way to connect with their ancestral cultures and to show pride in their heritage, especially since hate incidents against Asian Americans rose drastically in 2022.
"As I've gotten older, I've embraced my culture more and more," says Gloria Yen, a Taiwanese-American Bay Area resident. "It wasn't something I thought much about growing up, but with all the hate crimes happening to Asian Americans, it's something I've leaned into a lot more in the past few years."
Bridging cultures and generations with Lunar New Year
Although Lunar New Year is primarily celebrated by East Asian and Southeast Asian cultures, the holiday has become a form of cultural exchange in the United States. From Chinese chun jie (which translates to "Spring Festival"), to Vietnamese Tet, to South Korean Seollal, each culture has its own distinct new year traditions that are becoming more and more widely known. Just last fall, California—which boasts the largest Asian population of any state—made Lunar New Year an official state holiday.
A mask changer at the Huntington's Chinese New Year Festival. (Photo credit): The Huntington Library, Art Museum, and Botanical Gardens.
"State recognition of holidays like Lunar New Year can serve as an important encouragement to people to learn about cultures other than their own—cultures that may have a major presence in their community, but that they may not have encountered in any meaningful way," says Phillip Bloom, director of the Center for East Asian Garden Studies at the Huntington Library. "Holidays that involve major public celebrations—like Lunar New Year—can be especially important sites for cross-cultural mixing."
Many Asian American children of immigrants grapple with a sense of neither fully belonging to their parents' culture or to American culture. But for some, celebrating Lunar New Year has become a way to embrace their heritage and share it with others.
"I've always associated as more of a family holiday, but I love also being able to celebrate with my friends," says Yen. "Not all of them come from cultures that celebrate Lunar New Year, so it's been amazing being able to share that with them. It's a great way to keep the traditions going."
Welcoming the Year of the Rabbit at the Huntington Library
Greater Los Angeles has long been a melting pot of cultures and is home to almost 1.5 million people of Asian descent. Generations of Asian Americans have made an indelible impact on the city, and young Asian Americans like Yen are keen to pass along their traditions to anyone keen to learn. That mantle has been taken up by the county's numerous cultural institutions, including the Huntington Library, Art Museum, and Botanical Gardens in San Marino.
One of the ways the Huntington fosters deeper cultural understanding is through its annual Chinese New Year Festival, which is sponsored by East West Bank. The Huntington consciously refers to the festival as a Chinese New Year celebration because many of their collections, programming, and staff expertise is focused on China. However, although the festival specifically highlights Chinese traditions, the Huntington hopes to highlight the parallels between China and many other cultures.
"Most holidays around the world, including Lunar New Year, share similar features—a celebration of the passage of the seasons, a celebration of family, a celebration simply of surviving another year," says Bloom. "All of this is found in Lunar New Year—amplifying the family celebration side of things!"
Lion dancers in the Huntington Botanical Gardens. (Photo credit): The Huntington Library, Art Museum, and Botanical Gardens.
At its core, Lunar New Year is about bringing people together. As the holiday becomes more mainstream in the U.S., that ideology has only become more inclusive.
Since the first event in 2012, the Huntington's Chinese New Year Festival has always been geared toward people of all ages, cultures, and backgrounds. There is lion dancing, calligraphy and painting workshops, kung fu demonstrations, mask changers, and many more activities for attendees.
"We hope that all people will have a chance to enjoy some of China's many arts—painting, calligraphy, music, opera, and more," shares Bloom. "We hope they will be amazed by kung fu practitioners and entertained by lion dancers and savor our Chinese Garden."
Creating global connection
The COVID-19 pandemic and tense U.S. political climate have exacerbated divisions within the country, which has only deepened the need for cultural connection and understanding—and one of the best ways to do that is through exposure, exchange, and education.
On a grand scale, the Huntington's Chinese New Year festival may only be a small part, but the impact its programs, exhibits, and events provide is immeasurable. "Through all of this, we hope that they will gain a little appreciation for the incredible richness of Chinese culture and may be inspired to learn more about it on their own," says Bloom.
"The partnership with East West Bank has enabled hundreds of thousands of people to experience Chinese culture at our festival celebration," says Sian Leong Adams, director of Advancement Strategic Initiatives at the Huntington. "With them, we are creating a bridge between East and West. The Bank's support for Liu Fang Yuan, the Chinese Garden, as well as The Huntington's cultural programming cannot be overstated."