2022 Outlook: What's In Store for the Year Ahead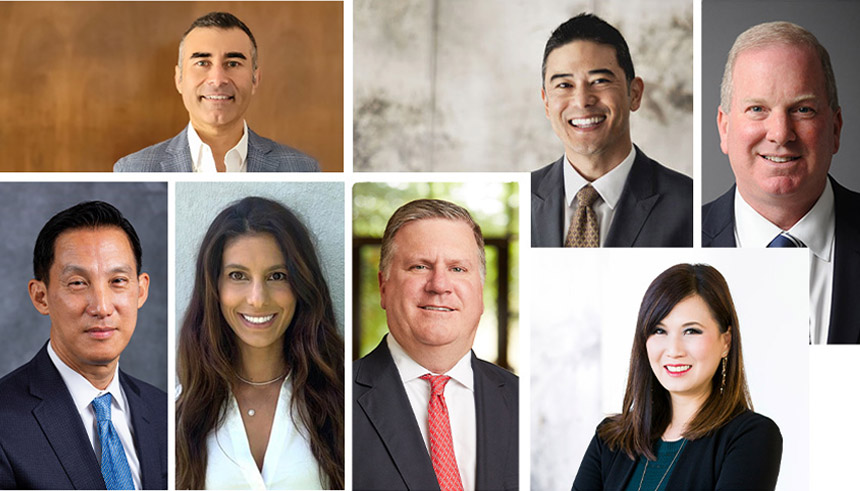 East West Bank execs
Some East West Bank executives look ahead at industry trends, learnings, and personal goals for 2022.
The past two years have been a particularly turbulent time for global industries, economies, and people. But with the start of a new year comes the double benefit of hindsight and forward-thinking. Here, seven of our East West Bank executives and team leaders share their thoughts and insights on what trends they foresee in their industries, what they've learned since the start of the pandemic, and what they hope 2022 brings.
Michael Burr – Senior Managing Director and Head of Texas, Commercial Lending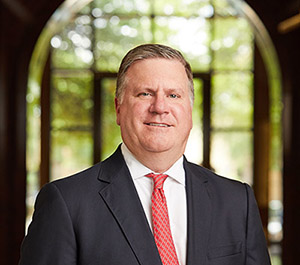 My macro thoughts concerning 2022 surround inflation and inevitable rate increases. While I'm confident in our team's ability to analyze and assess the risks of each, the psychological impact and potential hesitancy with capital allocation decisions is an area worth watching.
In a bizarre twist, the pandemic has afforded the consumer and many businesses an opportunity to address balance sheet issues (through debt reduction) and retain significant liquidity. I believe these factors will help offset inflation/rate increases environment, and potentially create more opportunities for EWB and our Central Region Teams, as this financial flexibility and pursuit of growth initiatives are strategically utilized.
Maytal Shainberg – Senior Vice President and Manager, New Media Group
Connected TV had a huge year in 2021, and we expect that trend to continue, particularly around mergers and acquisitions and initial public offerings, especially since one-in-three Americans no longer have traditional paid TV.
Last year was a strong one for my team: We agented over $600 million for clients, and we're looking forward to being a leader in the market for 2022. The New Media market has been very frothy—now is the time to raise capital and tack on debt alongside it. Additionally, since more and more consumers are moving to online banking, I'm excited to work with different teams within East West Bank to find partners for us and accelerate our growth in this evolving segment.
On a personal note, I welcomed another child in 2021, so I'm looking forward to watching Ava grow up with her sister Grace and brother Zay this year!
Reza Sabahi – Senior Managing Director of Specialized Lending
Adoption of Enterprise Software
The tech world is constantly evolving. This year, we're expecting more businesses, small and large, to be adopting enterprise software. We're also expecting to see expanded use cases for that B2B (business-to-business) software and for these B2B software companies to migrate towards a subscription-based revenue model.
The past year was an exciting year for my team: We provided financing to the world's largest EdTech company by units shipped, one of the world's largest enterprise data analytics companies, and we are currently working with one of Latin America's largest fintech companies that's expanding into the U.S. and Canada.
For 2022, I hope my team will enjoy the fruits of their hard work, as we continue to collaborate, move quickly, and find creative solutions to our clients' needs. And on a personal note, I'm looking to spending more time with my beautiful wife and daughter!
Andrew Stein – Senior Managing Director and Head of Commercial Banking & Specialty Finance, Eastern Region
Despite the continued overhang of COVID-19 on the economy consistent with the past couple of years we continue to see very strong growth opportunities in the Commercial and Industrial (C&I) space, and in the specialty verticals such as structured finance, health care, and project finance. There continues to be good opportunities for us to get involved in, and the pipeline will be very robust this year.
Our structured finance business remains our growth engine, with continued strong growth opportunities. Health care is our newest business on the East Coast, and we're focused on growing very strongly this year. For project finance, we are planning to pivot away from gas-fired fossil fuel projects and more towards new renewable energy technologies such as anaerobic digestion, paper pulp projects, and battery storage.
I'm also looking forward to traveling again this year and going to conferences, seeing clients in person, and going out to dinner with clients to celebrate deals closing. The labor market has been very volatile, but luckily we're in very interesting businesses which attract very talented people. It will be nice to have less remote work and see our colleagues in the office more consistently.
Michael Hayashida – Senior Managing Director and Head of FX Risk Management
Cross-Border Payments and Digital Banking
The past couple years have been volatile for foreign exchange (FX), and I expect some of that to continue in 2022. Global interest rates will rise, especially in the U.S., which is now projected to end tapering by April and have up to four rate hikes before the end of 2022 to curb inflationary pressures. That may spark a flight toward traditional safe havens if uncertainty and risk aversion persists in the global financial markets (i.e., pandemic and other geopolitical risks). Otherwise, as global economies move in a more positive direction, increased risk appetite could result in increased foreign investments, but also the need for more FX risk management solutions.
The Global FX team was fortunate to have experienced a record-breaking year of business growth and revenues in 2021. This year, the team will be focusing a lot on supporting the Bank's digital initiatives. I've always said, you almost can't say "Cross Border–Bridge Banking" without using "FX" in the same sentence—the two go hand-in-hand. Specifically, my team is aiming to provide cross-border payments support to help facilitate wide-spread adoption of East West Bank's Velo app, as well as the continual growth of the Bank's digital banking footprint. We're especially excited to launch a much-awaited product that will enable our customers to further streamline their international payments and currency risk management by leveraging a robust online e-commerce platform.
As much as I'm looking forward to Covid being in the rearview mirror, the past couple years have taught us some things—like the need to be flexible and adaptable, and the need for improved technology to remain competitive. I hope to reflect back on these past couple years as having been a catalyst to propel the world into a new age of innovation, collaboration, and interdependency.
Robert Lo – Executive Vice President and Head of Commercial Real Estate Banking
Low Income and Affordable Housing
The last two years has not been easy on the Commercial Real Estate market. Hotels were particularly hit hard, and many restaurants, retailers, and business were unable to open as commerce basically ended. Office buildings have still not recovered as many businesses continue remote work, especially with omicron continuing to postpone return-to-office dates. However, many of our clients were able to survive with our Paycheck Protection Program (PPP) help and some, such as those in the residential and multi-family markets, have even thrived.
One area that East West Bank strategically targeted to grow in 2021 and 2022 is Low Income Housing Tax Credit and Affordable Housing, through our off-balance sheet Credit Enhancement product, headed by Deborah Beveridge. In late 2021, we hired John Chan, who has decades of experience in this field, to head this initiative so we can help facilitate the distribution of both federal and state funds toward ending homelessness. We've also recently established a 360-degree relationship with San Gabriel Valley Habitat for Humanity, where we hope to help facilitate more affordable housing in our community.
As I reflect on the last two years, I'm forever grateful for the opportunity to be part of the East West Bank team, where we distributed $2.7 billion worth of PPP funds to over 12,000 business owners.
Renee Chang – Senior Vice President of Consumer and Business Banking
Mobile Banking and Employee Engagement
For 2022, one of my main priorities is engaging even more with my employees and building talent. These past couple of years have been really hard for everyone, and I want to make sure my team knows that they're recognized for all their hard work. Recognition and acknowledgement go a long way, and as management, it's the least we can do to show support to our frontline associates.
We're also continuing our efforts in helping our clients go digital. There were many challenges initially, but now they're slowly opening up and seeing the value on how convenient mobile and online banking can be. Now, with almost every transaction, we're saying, have you tried our app? Hey, you could do this international wire on our mobile app!
Although we do have a digital focus, my goal is to go back to the basics and get some of that face-to-face customer interaction once omicron dies down. One of East West Bank's key differentiators is our ability to build relationships. In-person meetings are critical to building relationships, which lead to meaningful local referrals.
On a personal note, I'm on detox/healthy mode. I'm drinking more water and been getting up at 6 a.m. for a jog. That never happens—it's freezing cold! It's all about getting back in shape, getting healthy for me, and now I feel like I have an abundance of energy compared to last year!